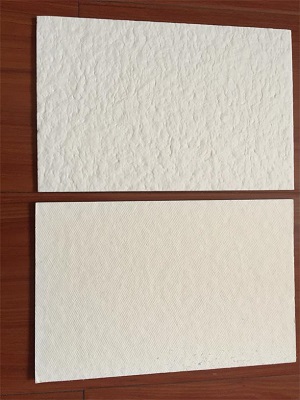 Made of cotton pulp.
Used in frame filter for filtration of bear,juice,syrup,gelatin,soy sauce,vinegar,clean wine etc.
GSM:1100±100g/㎡
Color:white.
Size:350*350mm,400*400mm,500*500mm,600*1220mm,1000*2000mm, can be cut into any shape according client's request,such as square,circle,and can be punched.
Through the FDA certification.
Use instruction:rough side is entrance of liquid,smooth side is exit of liquid.
Specification


Name
GSM
g/㎡
Thickness
Mm
Filter speed
S
Moisture
%
Dry Bursting strength
Kpa
Wet bursting strengthKpa
Infundibular
method


Vegetable filter paper
80g
0.2±0.02
40-60
<7
>120
120g
0.32-0.34
10-30
<7
>200
>
130g
0.35-0.38
20-30
<7
>120
>
150g
<7
>
>
180g
<7
>
>
270g
0.65-0.7
40-60
<7
>400
>
370g
0.9-1.05
20-60
<7
>500
>



Oil filter paper
80g
0.21-0.23
15-35
<7
>150
>
120g
0.32-0.34
<7
>200
>
220g
<7
>
>
270g
0.65-0.71
30-50
<7
>400
>
300g
0.65-0.72
30-50
<7
>500
>
350g
0.75
40-50
<7
>500
370g
<7
>500
>


Water filter paper
80g
0.2±0.02
15-25
<7
>
>120
270g
0.65-0.7
30-40
<7
>550
>300
370g
0.90-1.0
40-50
<7
>600
>350
390g
<7
>
>
400g
<7
>
>

Wrinkled filter paper(fry oil filter paper)
140g
0.4-0.45
2-4
<7
>100
150g
0.5-0.55
3-5
<7
>
>200
160g
0.55-0.6
5-15
<7
>300
>200
200g
0.6-0.65
15-30
<7
>450
>200
Support filter paper board
1100g
3.6-3.8mm
50-240
<7
>
>900
Fine filter paper board
1300g
3.6-3.8mm
3.4mm(juice filter paper board)
90—3600
<7
>
>200

Note:generally, each type can subdivide to three speed:fast, moderate and slow。The filter paper board can be subdivide more.
The GSM ,thickness and the filter speed is also can be adjust according the client's request.
Please tell us in where you will use the product,we'll help you to choose the best type which will fit to your use..